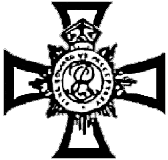 Latest News of the Preceptory

Preceptory of Improvement visit to Swansea

Front row left to right: E.Kt. Peter Doust, E.Kt. Alun Davies, E.Kt. Ron Prichard, E.Kt. David Platon, E.Kt. John Randall. Back row: E.Kt. Nobby Birchall, E.Kt. Angus Rhodes, V.E.Kt. Peter Swannell.
On 4 June the demonstration team was invited by the Holy Palestine Preceptory in Swansea, to demonstrate the K.T. Ritual. On arriving we were greeted by E.P. Alun Davies who had organised this event. The demonstration was actually held after the meeting of the Owain Glyndwr Preceptory. At the Refectory both the Owain Glyndwr Preceptory, and the Holy Palestine Preceptory, dined together. Our thanks go to all of the members of both Preceptories, for the hospitality we received during our visit.

E Kt Dennis Fountain
Registrar
King Edward Vll Preceptory Preceptory of Improvement
return visit to Slovenia
Top Left: The Knights at the festive board; Top Right: E.K. Peter Peterca.

Left: (from left to right) Nobby Birchall, Dennis Dean, Peter Peterca, Dennis Fountain, David Hiscock.
The Preceptory of Improvement was invited to Ljubljana to assist in the Degree of Malta. This was held in the Masonic Hall just outside of the city. This occasion was the first time the Carantania Preceptory had performed this ceremony. There was a total of sixteen Knights to be initiated into the degree. Members of the Preceptory namely E.K. Dennis Fountain, E.K. David Hiscock, E.K. Dennis Dean, and E.K. George Birchall, who held the respective offices of E.Prior, Marshal, Captain General, and Captain of Outpost.

The Preceptory had arranged for a buffet throughout the day, as we held the Malta meeting in the morning, we then had lunch. After which all the Knights took their respective officers and we gave instruction on the Malta degree. The Preceptory then held their Refectory in a local restaurant.

We hired a car for this visit as we were there for four nights, and wanted to see more of this country. Slovenia gained its independence from Yugoslavia in 1991, after a eleven day war with the Yugoslavian army. Amazingly there was no evidence of this conflict. The damaged part of Ljubljana had been rebuilt, and new roads had been constructed. The city was absolutely clear of all litter unlike our own country. Anyone who have never been to Ljubljana should put this city on their must see list. On the Sunday we took a drive to Lake Bled, this is a well known tourist attraction, with an island in the middle of the lake, and a castle high up on the edge of a rock face. Needless to say we spent some time in the castle looking at the various artefacts. This had been a very momentous trip for all concerned. The hospitality we received from the Knights of the Carantania Preceptory, and especially Primoz the E.P who had arranged everything can only be described as absolutely superb .

E Kt Dennis Fountain
Registrar